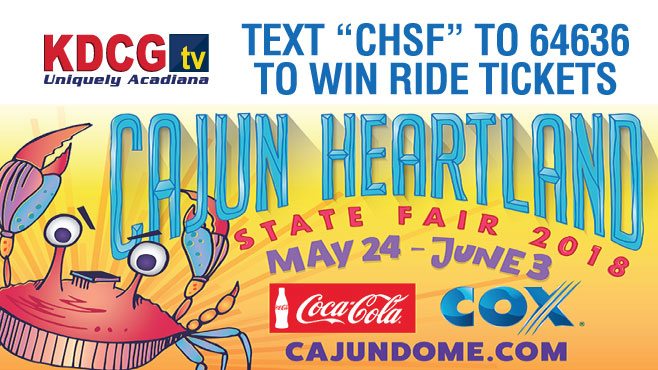 TEXT "CHSF" TO 64636 TO WIN CHSF RIDE TICKETS!
The Cajun Heartland State Fair is an eleven day state fair produced by North American Midway Entertainment and the CAJUNDOME staff offering an exciting entertainment line-up and discount ride offerings that attract over 175,000.
The Cajun Heartland State Fair will provide the best in family entertainment for children of all ages. North American Midway Entertainment will have numerous super rides such as the giant Ferris wheel, Crazy Mouse and the Mega Drop! Games and free attractions will entertain everyone. Prizes and surprises await everyone at the Cajun Heartland State Fair.
The Cajun Heartland State Fair is managed by an innovative and insightful team of professionals priding themselves on knowing the right mix of entertainment arranged to provide maximum enjoyment for all ages. The ride specials, food, free attractions and family oriented games make an outstanding summer experience. Truly, there is something for everyone to enjoy at the midway and around the fairgrounds.